Adorable Price
Offering Best Price All Over Dubai
Free Pick & Drop Service
Offering Free Pick & Drop Service All Over Dubai
Expert Mechanics
We Have Heighly Expert Mechanics Team
We're Providing Quality Bicycle Repairing Services in Dubai UAE
Caring for your bicycle can lead to many positive aspects. Firstly, a bike that is taken great care of usually lasts longer than those that are not. Moreover, the bike performs well on the track than other bikes. For this purpose, one must provide the bike with the best possible services. We provide the best bicycle repair home services in Dubai. Our services include regular repair, maintenance, complete tuning, etc. The bicycle repair services that we provide would indeed speak for their own. We believe customer satisfaction to be our number one priority, and that is why we make sure that all parts and tools we use are genuine, and that the service we provide is up to the class.
How Do We Provide Bicycle Repair Services In Dubai?
For the comfort of customers, we provide many facilities to save your time and effort.
What kind of Services do we Provide?
We provide both bicycle repair services in Dubai along with bicycle repair home services. We have trained professional staff that tries their best to give you the best possible cycle repair services in Dubai—talking about some of the services that we provide. Include tune-up services and cleaning, Problems, and repairs related to brakes and tires, and problems related to front and back excel. We also offer a new bike assembly service in Dubai UAE.
Bicycle Repair Home Services in Dubai
We have mechanics that can visit you at your location and fix your problems regarding your bicycle. You need to call our operator and inform us about your issue and the parts that you want to change. Afterward, our mechanic would reach you with the genuine parts according to the time that you set. This bicycle repair home service in Dubai would save you time and effort.
We also take bookings for bicycle repair services in Dubai, that is, you can book a specific time at which you are comfortable and can bring your bicycle to our bicycle repair shop in Dubai UAE. One such benefit of this is that you don't have to wait for your turn to fix you're your bike.
Our bicycle repair services in the local area are designed so that you are provided with premium mobile bike services in Dubai UAE at your assistance and that you don't need to visit our workstation. This service thus saves you a tremendous amount of time.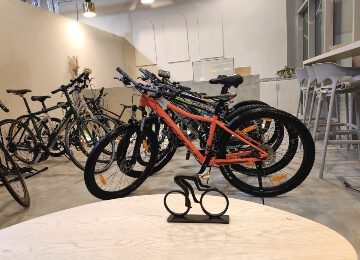 Best Bicycle Repair Shop in Dubai
In our bicycle repair shop in Dubai, you would find the most genuine parts available. We do not compromise on quality therefore try to provide our customers with the best products at affordable prices. Our staff and facility all stand out for themselves. Therefore, we believe that we provide one of the best bicycle repair facilities in Dubai.
Our Precious Customer Reviews
Muhammad Zohaib
2022-11-12
Expert stuff great service i done my road bike service done great experience 👌highly recommended 👍
Muhammad Zohaib Hafeez
2022-11-12
Profedsional service frindly stuff highly recommended 👍❤
Muhammad zohaib Hafeez
2022-11-12
Great service quick delivery after service my bikes look brand new highly recommended 👍
Good job 👌friendly stuff highly recommend 👍☺️❤️
Very good service same day done service and delivery 👍❤❤
good service 👍❤
These guys are amazing, they offered free pick up and drop off for our bikes, they did full service and replaced broken parts and returned the bikes good as new! The prices are also very good. Highly recommend 👍🏻 Thanks again guys for the amazing service and friendly staff, much appreciated!
Anood Cafeteria
2022-10-30
Good job
Erica Pangilinan
2022-10-28
good service fast delivery reasonable price high recommended 👍